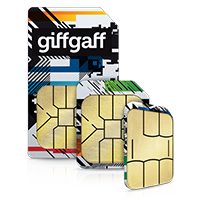 Giffgaff
Giffgaff is a UK mobile phone company that runs on the O2 network. We not only offer an excellent reception all over the country but we are also convinced that we offer the best tariffs in the UK.
We understand the needs of UK immigrants so our aim with our giffgaff delivery service is to distribute giffgaff sim cards to all European people planning to move to the UK to live, work or study, in order to simplify their telecommunications needs and allow them to stay connected with the ones they most love as soon as they land in the country.
Moving to a new country can be daunting, so being able to access the internet as soon as you land is a must, as you will be able to look up maps, check bus routes, book hotels, call job offers… you name it!
Having a UK number before coming to work in the country can also be very advantageous as you can include it on your CV and simulate that you are in the UK. This will highly increase the odds of being contacted.
No contracts – No ties
With giffgaff you can forget about lengthy contracts, signing wordy documents and having to pay a fixed amount of money each month even if you don't use your phone. You will only pay for what you use.
In fact, we like to keep things so simple that with giffgaff you can even sign up and activate your sim card from the comfort of home without even coming to the UK. Everything can be done online in a few simple steps.
And, if for some reason you are unhappy with our services, you are free to leave at any point. No questions will be asked.
View all tariffs
Giffgaff is a virtual mobile operator which belongs to O2-Telefonica enabling an excellent coverage and service in 99% of the country. To consult the quality of giffgaff coverage just introduce the city or postcode of the area you are going to live.
Great International Rates
We know that calling and being in contact with your family and friends back home is essential when you start your new life abroad (we all miss our family!) so we offer extremely cheap tariffs to allow you to call home as many times as you want for as long as you need.
Our tariffs differ between countries, so you had better check the international tariffs section to find out how much it will cost to call your country. We are sure that you will be amazed with our low tariffs.
In fact, our tariffs are so low, that you will not be able find any other phone company that matches them!
Free Giffgaff Calls
And if you don't have enough with all the above, we also offer free calls to other giffgaff phones! Yes, if you come with your partner, spouse or friend, you will be able to call each other for free.
Each time you top-up credit or buy a goodybag, you are awarded with 3 months of free calls, video calls and texts to other giffgaff users. Calls are limited to 60 minutes but you can call as many times as you want, so virtually all calls between giffgaff numbers can be said to be unlimited.